Both Intel vPro and AMD Ryzen PRO technologies are primarily designed for business and enterprise use. When integrated into Intel's vPro or AMD Ryzen PRO platform, they come with additional features that enhance security, stability, ease of management, top-tier performance, and more. 
While the processors handle the computational heavy lifting, these supplementary features make these platforms particularly appealing for enterprise solutions.
Intel Alder Lake vPro platform
Intel significantly advanced its Intel vPro technology when it introduced its 12th Gen Alder Lake mobile CPUs. Given the growing emphasis on remote work in recent years, Intel extended the vPro platform to encompass new aspects that align with its 12th Gen chips. The 13th Gen Raptop Lake mobile processors have retained the four distinct categories of vPro processors.
Intel vPro Enterprise: Designed for large-scale businesses and organizations with a global workforce.

Intel vPro Essentials: Tailored for small businesses that may not require the advanced scalability of vPro Enterprise.

Intel vPro Enterprise for Chrome: Geared toward Chromebooks requiring heightened security and performance for business purposes.

Intel vPro, An Evo Design: A fusion of agile and powerful Evo-certified laptops with added security and management features.
Intel vPro processors  now goes beyond the basic standards of a Trusted Platform Module (TPM) or network format support. It offers a suite of management tools tailored to specific user needs. For instance, an enterprise IT department can access a remote machine using vPro's remote management tools when necessary. The remote assistance feature can also be used for diagnostics, software updates, and more.
AMD's Ryzen PRO technology offers a similar set of features with a focus on business and enterprise use. AMD distinguishes their PRO SKUs in a more defined manner, as indicated in the list of compatible processors below. When you acquire a laptop bearing the Ryzen PRO label, it signifies a focus not only on security and management but also on delivering robust performance.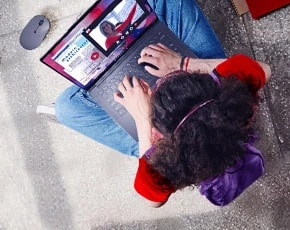 AMD Ryzen Pro processors
Security is a pivotal factor to consider when dealing with enterprise machines, and both Intel and AMD excel in this regard with their respective platforms. Both vPro and Ryzen PRO chips offer robust security features that go beyond what the operating system and hardware provide to safeguard sensitive data.
Both Intel and AMD have collaborated with Microsoft to offer Secured-Core PCs, ensuring protection from firmware and OS vulnerabilities at all times. This is particularly crucial, especially when new software versions are released. Notably, AMD has implemented a three-layer security system that works in harmony with the OS and hardware to safeguard your data. AMD's Ryzen 5000- and 6000-series chips introduce a Shadow Stack to the chip's architecture to fortify defenses against software attacks, along with a memory guard to protect your PC's memory.
AMD Ryzen PRO security features
Intel Arc 8th gen vPro chips also offer a comprehensive set of security features for enterprise customers. Unique to the Intel vPro platform, the exclusive Hardware Shield operates beneath the OS level to enhance overall PC security. Intel vPro chips further benefit from a secure boot sequence reinforced by virtualization-based security (VBS). The Hardware Shield encompasses various security features, including Intel Threat Detection Technology, Intel Total Memory Encryption, Intel Trusted Execution Technology, and more.
These features may seem complex for the average PC user, but they are administered and managed by IT departments within organizations. As an end-user, it is essential to know that both AMD and Intel enterprise platforms incorporate extensive security features. Your choice between the two depends on your specific use case.
Bottom Line:
Intel's latest 13th Gen processor lineup, as well as previous generations not listed here, offers a wide array of vPro SKUs. This diversity ensures the availability of vPro processors in various categories, whether high-end HX- and H-series chips for workstations, P-series chips for lightweight office notebooks, or entry-level machines powered by U series processors. This allows you to find an Intel-based vPro machine across different price points.